Examination of the Dynamic Behaviour of Cardiac Support Systems
Challenge
Ventricular assist devices (VADs) are available for late-stage heart failure. These are usually implanted to bridge the gap until heart transplantation is performed.
Conditions
A VAD is a mechanical pump which takes over the function of the left or right ventricle or both ventricles
Most commonly, a Left Ventricular Assist Device (LVAD) is used to assist the left ventricle
The device is implanted in the apex of the heart. It sucks the oxygen-rich blood - which the heart can no longer pump into the body - out of the left ventricle and then pumps it into the aorta via an artificial duct called graft
The control unit and battery are located outside the body - the cardiac pump is connected to them by a connecting cable
Scope
Development of reliable, patient-adapted VAD systems
Task
Simulation of a VAD system to investigate the dynamic behaviour as a function of the control and geometry parameters at specified maximum pressures
Solution
Development of a hydraulic-pneumatic ventricular model
Setup of simulation models for the pneumatic actuation and the hydraulic representation of the body
Verification of the sub-models and combining them into an integrated simulation model
Simulation of the VAD system with different control settings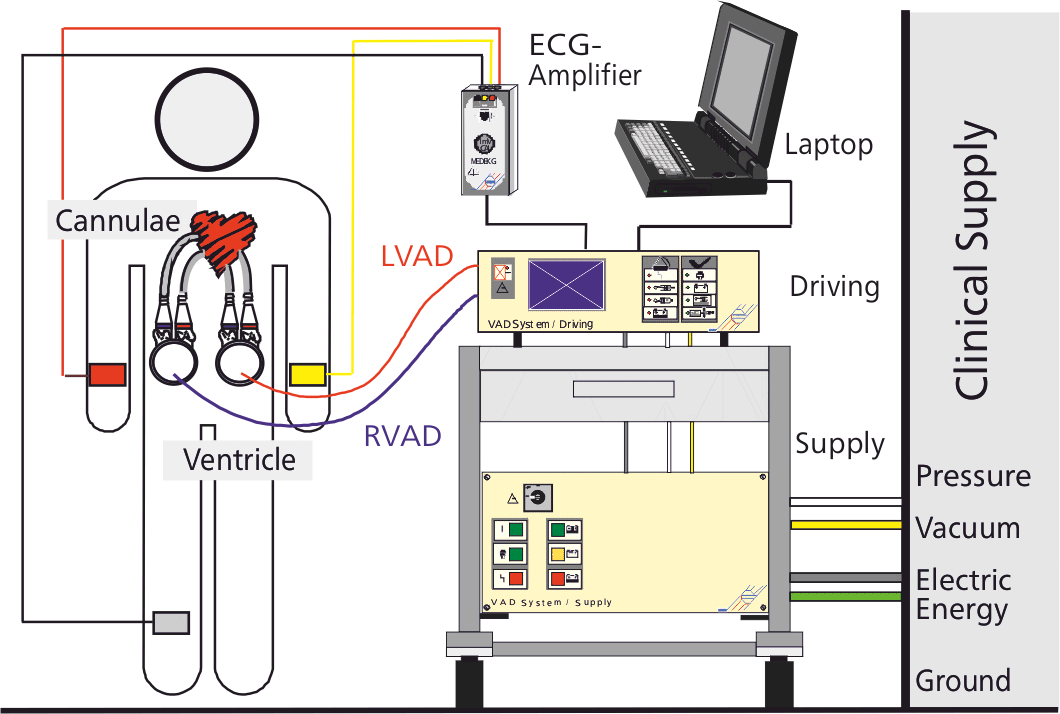 Customer Project

Simulation of a VAD system to investigate its dynamic behaviour (PDF)
Detailed Information
Detailed questions regarding the above-mentioned projects or possible solutions to specific problems will be answered directly by our engineering team.